24" x 48" Portable Propane Gas Grill Rental Starting At:
24" x 48" Portable Propane Gas Grill Rental Starting At:
Product Description
24" x 48" Portable Propane Gas Grill (Propane NOT Included)
Propane Gas Grill Operating Instructions Click Here: Gas Grill Operation Instructions
NOTE: ALL Grills will be charged an additional $30.00 cleaning fee refundable upon return if clean.
Rental Rate Descriptions
Daily = Customer pickup price. Due back by 9 am the next day regardless of pickup time (Not a 24 Hour Rental)
Weekend = Customer pickup price. Friday Noon to Monday 5pm
Delivery and Pickup is available based on zip code. Deliveries are made to a convenient point for the delivery vehicle to park. Setup and Takedown is extra. Extra charges will result in deliveries to upstairs, elevator use or any point where extra time is involved.
To see rental terms & conditions. Rental Contract
Interesting in purchasing? https://usedequipmentexperts.com/

This 24" x 48" Portable Propane Gas Grill can feed everyone at your next party with one of these grills. Big John A3P grill offer 792 square feet of grilling surface and are easy to transport, easy to setup and easy to use.
3 Sizes of propane grills to choose from ABC has your grilling needs covered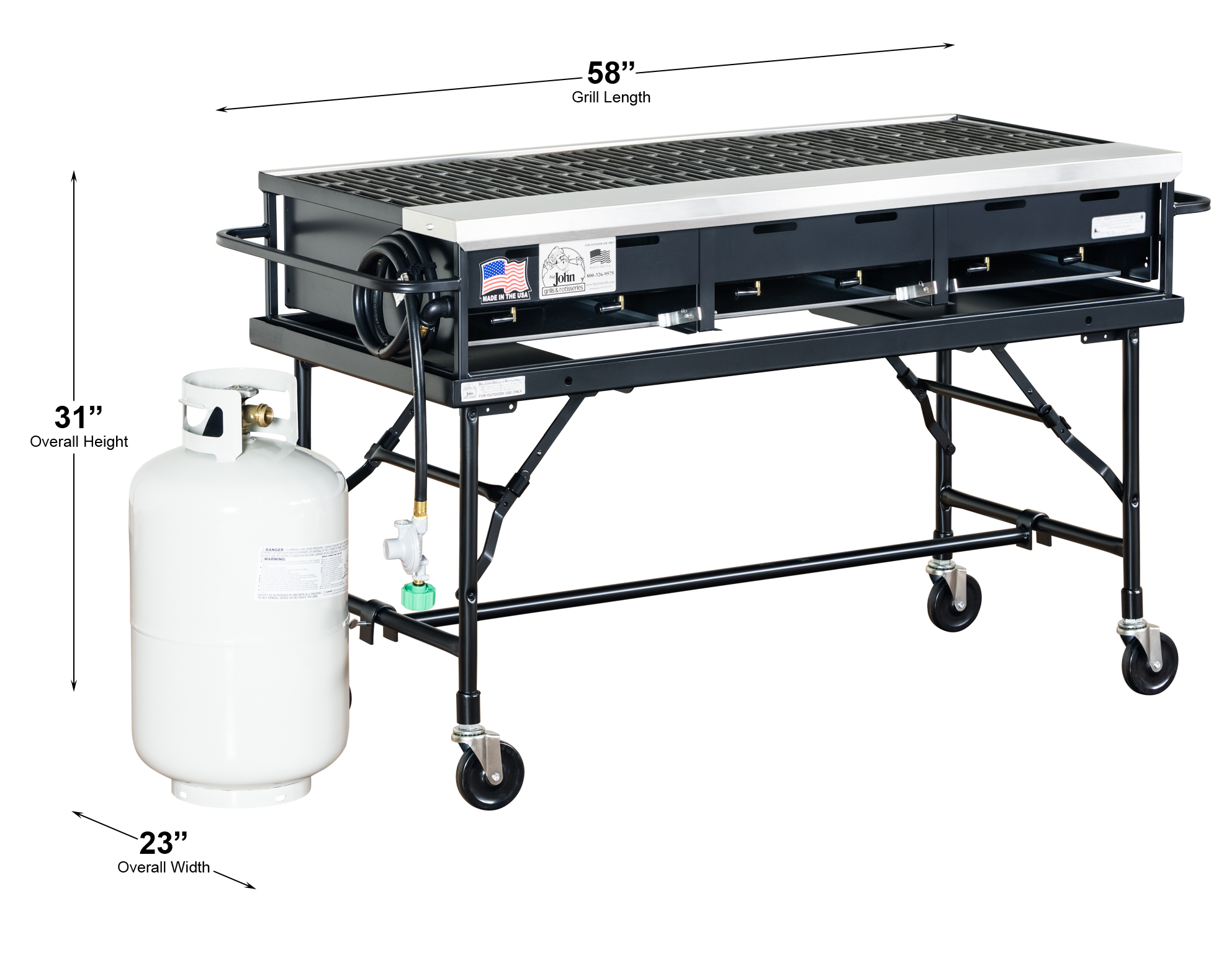 Assembled Dimensions
• Cooking Surface:
• **PLEASE NOTE: All measurements are rough. Big John Grills recommends having equipment in hand for exact dimensions.**
Superior Components (Learn More)
• 6' low pressure hose
• Powerful 200,000 BTU low pressure regulator and 200,000 BTU Lime Green QCC (Quick Connect Coupler)
• 6 stainless steel burner tubes with air mixers rated at 20,000 BTU's each and total grill BTU output of 120,000
• 6 adjustable, individually controlled, brass control valves with black knob
• Genuine Colorado lava rock, Ships with 3 bags (1 bag per section)
• 3 Cast Iron Grates measuring 16 1/8"L x 16 1/8"W and weighing 11 lbs. each
• Double Walled Fire Box manufactured from 304 Type Stainless Steel
• Sturdy Tubular, High Temp Black Powder Coated Steel Frame, welded to create 1 piece construction and designed to protect the grill body with 2 carrying handles
• 1 - 30" Worthington Cylinder
Mobility
• Optional Folding Leg Cart manufactured from 11 gauge carbon steel with black powder coat finish.
• 4 - 4" Commercial Grade Swivel Casters, Solid Rubber with threaded stem, rated at 125 lbs. capacity each
• 500 lbs. Total wheel weight carrying capacity
• Total grill weight as pictured is 213 lbs.
Shipping Information
• Shipment Dimensions: 60"L x 28"W x 36"H = 35 cubic feet, shipping weight is 271 lbs.
• Ships via Common Carrier Freight (UPS Freight, XPO Logistics) tail gate delivery.
Propane Tanks
• 20 lb. Tank Burn Time: Not Recommended – Cannot Support Large Capacity Grill
• 30 lb. Tank Burn Time: 7-11 hours
• 40 lb. Tank Burn Time: 9-14 hours
• 100 lb. Tank Burn Time: 14-20 hours
Find Similar Products by Category